Choosing the right leotard for training and competition is the first step on the road to winning gold. How you look and feel in a leotard impacts your confidence level, making it a big decision.
Of course, fit and function are just as important as appearance, but there are many great leotard manufacturers out there. GK Elite, a US company based in Reading, PA, offers truly top-of-the-line leotards. After all, they have been the go-to company for Olympic gymnasts for more than twenty years. The secret to the success of their leotard designs starts with the fabric, Mystique. Mystique is a compression fabric that keeps everything lifted and tight for best performance, along with offering visual appeal since it has a lovely sheen to it. All current Olympic leotards are made from this incredible fabric.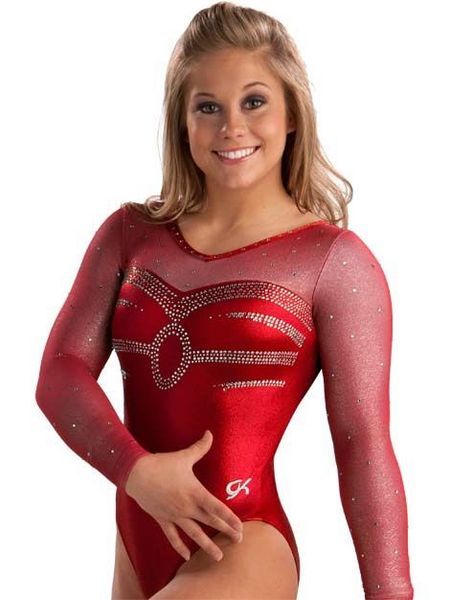 Everyone's favorite GK Elite sponsored gymnast showing off their red sequined-out leotards
Choosing the Right Brand
GK Elite is the Olympic leotard brand, and their price points are just as elite as their brand name. Prices range from around $50 to more than $400 per leotard. Since every competition leotard needs to be ordered along with replacements, this can rapidly put GK Elite outside of the average budget. Melody leotards offer an affordable alternative, starting at a very reasonable $20 on tank leotards for training. Motionwear and Alpha Factor fall somewhere in between. They also offer Mystique leotards in a wider variety of styles, including long sleeves for competition.
Where to Buy Leotards and Get the Best Fit
Tons of different distributors carry the top brand names in gymnastics leotards, but not every website is easy to navigate. Below are four great companies that make the ordering process easy, without making you visit the store in person to get a great fit.
1. Dance Wear Solutions
Dance Wear Solutions carries a great range of inexpensive leotards for young and adult gymnasts. The site is intuitively designed with a simple to use order process, and all your information is saved to make future orders quick. Ballera is the brand of choice on this site, so don't be surprised when you don't see any of the top three gymnastics brands. This is a great site for chidren and youngsters in the early stages of their bid for Olympic gold. Unfortunately, it doesn't offer all the customization that true competitors need. They can be found here.
2. Melody Leotards
Melody Leotards sells its brand directly to consumers, which contributes to its phenomenally low pricing. The limited styles available mean it is not the only place you'll need to shop, but for training leotards it can't be beat. They can be found here.
3. Leotard World
Leo World offers all the top brands in a wide variety of styles. Alpha Factor and Motion Wear leotards are available in sizes from child's extra small all the way up to adult extra large. Customization is not available, and some items take a month or more to ship. You can get those girls leos here.
4. GK Elite
GK Elite is the Nike of gymnastics leotard makers, straight down to their sponsoring of the Olympics. GK offers direct sale of their Olympic leotards, with custom designs and custom fit. Buy direct from this dealer and you can also purchase the new London 2012 inspired leotards for your own personal use. Look and feel like an Olympic medalist in one of their custom competition leotards. The ordering process takes a while, and the price point is a bit steep, but in my experience, these leotards are worth every penny. You can find them here.
GK Elite's cross-branded adidas leoard